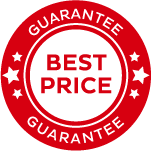 Seduce and be seduced
Immerse yourself in a world of sensuality: cuddle up, indulge yourself and enjoy the feeling of being in love to the full. The sensuous-erotic ambiance of our Loveroom will leave you feeling all frisky. Incidentally, this also applies to those in their second or even third adolescence...
See our special Loveroom offers here.