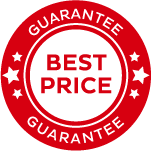 Chalet suite
The four chalet suites are designed in the typical chalet style with a lot of wood and convey a cosy chalet atmosphere.
The suite on the attic floor on the south side has a living area with a wood fireplace and the second attic suite on the north side has a living area with as well as a steam shower in the bathroom.
The Chalet Suites of the first and second floor, built in 2020, are 45m2 in size. With very high quality materials and also a lot of wood you will feel completely comfortable in these suites.
All four have a sofa bed.