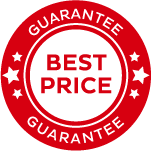 Enjoy the extra comfort.
Our Deluxe Suites exude freshness, homeliness and style. Great attention was paid to the choice of materials and colour scheme. All Deluxe Suites are equipped with a coffee machine and an additional sofa bed for one or two children. 3 suites avec a bathtub in the room as well as a separate shower/toilet. The 2 other suites have a bathroom with bathtub/shower.
Since June 2020 we offer 2 more Deluxe Suites to the swimming pool side. These are in the style of the rooms facing the brook; that means with lots of wood and noble oak parquet. Bed sofas for children are also available.
Deluxe Suite with bathtub in the room